DDD - GUIDED DRAWING WORKSHOPS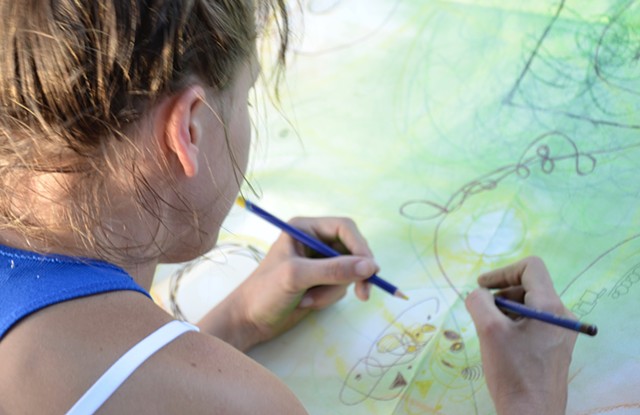 D D D DRAWING HAND WORKSHOPS
From Dance to Drawing is just one Dimension
FB: Antonella Cusimano - Art & DDD Drawing Hand Workshops
Find and Express your artistic voice through Drawing
This drawing teaching technique, that I personally developed, aims to help you to free yourself in your personal creative process through a wide range of experiences to offer you the tools to create your own drawing art work.
Practically you will leave with two drawings ( A2 or A1 format).
The workshop is divided in two deeply inter connected parts:
I. Experiential Part
II. Composition Part
I. The first part will be the experiential section which includes different range of stimuli.
Your ability to welcome the adventurous aspect of this first part, will enrich you and will open up to new and maybe surprising effects you can use to compose your final drawing.
II. In the second part you will be invited to make choices in order to compose your unique drawing using the experiences of the first section.
You will be still followed and advised if needed, but you will be free to compose your own drawing.
Q&A:
* DO I HAVE TO DANCE DURING THE WORKSHOP?
NO ! From Dance to Drawing means I will guide you using some inputs used in dance composition.
Anyway there will be music in some parts of the workshops and if you feel like dancing you are welcome!
* WHAT KIND OF EXPERIENCES CAN I ASPECT IN SECTION II ?
The experiences proposed range from simple practical rhythm / space exercises, to sensory more complex experiences in order to connect and awaken your imagination and creativity.
* DO I NEED DRAWING SKILLS IN ORDER TO FOLLOW A DDD WORKSHOP?
No. Previous abilities are NOT necessary because, through the guiding system I will propose, you will learn to trust your innate ability to draw.
Everybody can draw as everybody can dance and sing.
Some people are more skilled than others, but everybody has the right to express his/her own creativity and the beauty is connected with the authenticity of expression.
Some amazing expressive drawings have being made by doodlers, automatic drawing and outside artists.
So much so to become the base of contemporary drawings.
As humans we are touched when something is alive and authentic or when something is so beautiful to become sublime.
* DOES MY FINAL DRAWING NEED TO BE ABSTRACT?
Every form of drawing is welcome from abstract to figurative and you can also mix them together!
You will be free to draw whatever will come up from your intuitive authentic self.
You will find trust in your impulses and intuitions to create.
Each of us is a creative being and you can express yourself freely to empower yourself and strengthen your sense of existence.



As a drawing teacher I like to guide you in finding your own drawing artistic voice in a safe environment to enhance your artistic expression.
Please find photos of drawings produced during workshops in the Portfolio page: DDD Drawing Hand Workshops at antonellacusimano.com